VUBER WHOLESALE PROGRAM FAQ'S
How do I sign up for an account?
Vuber Vaporizers offers a Wholesale Program for those looking to purchase their products in bulk. Signing up for an account is easy, just follow these steps:
1. Fill out the inquiry form above for a dedicated Vuber rep to follow up with you. Or, call us at (206) 582-2899 at our headquarters from 9:00 AM to 5:00 PM PST Monday through Friday. Messages may be left if calling outside of normal business hours.
2. E-mail us directly at wholesale@vubertechnologies.com to place your order with Vuber, wholesale information, or other distributions opportunities.
As a member of the wholesale program, you'll have access to special pricing, promotions, and other benefits. 
Note: This information is provided as a general guide. The specific requirements, steps and policies of the Vuber Vaporizers Wholesale program may change over time and it's recommended to check the Vuber Vaporizers website for the most up-to-date information.
What methods of payment does Vuber's Wholesale Program offer?
Vuber Vaporizers offers a variety of payment methods for our Vape Wholesale Program to ensure that our customers have a convenient and secure shopping experience.
1. Credit Card: We accept Visa, Mastercard, American Express, and Discover. This is the most convenient and quickest method of payment as it is processed in real-time.
2. Bank Transfer: Customers can also make payments via bank transfer. This method of payment may take a few days to process, so we recommend that customers plan accordingly.
3. Check or Money Order: Customers can also make payments by check or money order. However, this method of payment may take longer to process, so we recommend that customers plan accordingly.
All of our payment methods are secure and designed to protect our customers' personal and financial information. We strive to provide our customers with a convenient and secure shopping experience.
How long does it take to process orders via Vuber's Wholesale Program?
Vuber can process most orders within 1-2 business days. Order processing time is subject to product availability and may be altered at Vuber's discretion.
Do you have an MOQ's for Vuber's Wholesale Program?
Our program is open to all retailers, regardless of their size or location.
To participate in our Wholesale Program, we do not require a minimum order amount. Your first wholesale order with us will ship free, after which orders will be subject to a 5% shipping fee.
Do you wholesale replacement parts for vaporizers?
As a leading supplier of vaporizers, we are committed to providing our customers with the highest quality replacement parts at competitive prices. Our wholesale program is designed to offer businesses of all sizes the opportunity to purchase replacement parts for vaporizers in bulk, at a discounted rate.
We understand that in the vaping industry, replacement parts are a vital aspect of keeping your customers satisfied. That is why we offer a wide range of replacement parts, including coils, batteries, glass, and more.
What is the Limited Lifetime Warranty from Vuber?
The limited lifetime warranty from Vuber is quite comprehensive and covers a wide range of potential issues that could arise with the device. For example, if a battery stops working due to a manufacturing defect, Vuber will replace the battery under warranty. 
However, there are some important limitations to the warranty that customers should be aware of. For example, the warranty does not cover damage caused by improper use, physical abuse, moisture exposure, or any activity other than vaping. Additionally, cartridges, atomizers, and heating coils will need to be replaced over time and are therefore not covered under the warranty. Furthermore, a shipping and handling fee of $6.99 per item replaced will be applied to each warranty claim.
Despite these limitations, the Limited Lifetime Warranty from Vuber is generous and provides customers with a great deal of protection. If a customer experiences a problem with their device, they can contact the Vuber customer care and product expert team, who will be happy to assist them in getting their device replaced. 
Do you ship Globally?
We currently ship to the United States and Canada. We are investigating international shipping options for customers outside of the US and Canada. 
What if we don't want to handle warranties as the retail entity?
Not a problem! In fact, we prefer that you direct your customers to Vuber's website for warranty submissions. Our customer service team will be able to assist your customers with post-sales support. 
Does Vuber's Wholesale Program offer promotions?
Vuber does offer occasional promotions on specific products throughout the year. Join our wholesale program today to stay up to date on our latest promotions and wholesale offers!
Does Vuber's Wholesale Program support product information for staff training?
Vuber develops a wide range of support videos, guides, and other materials to educate staff and customers about Vuber products. 
Does Vuber's Wholesale Program offer volume discounts?
Yes, Vuber offers volume discounts for wholesale customers. Contact us directly for more information about current volume discounts.
Can a retailer have permission to use Vuber product material and videos?
Absolutely! We encourage retailers to use our product material and videos for sales and educational purposes. 
How can I return vape products that have not worked well?
We will exchange products under our limited lifetime warranty program. For the life of the battery, Vuber will replace units that are deemed to have a manufacturer defect. 
Herbal vaping, also known as herbal vaporization, is a relatively recent development in the long history of herbal medicine and the use of herbs...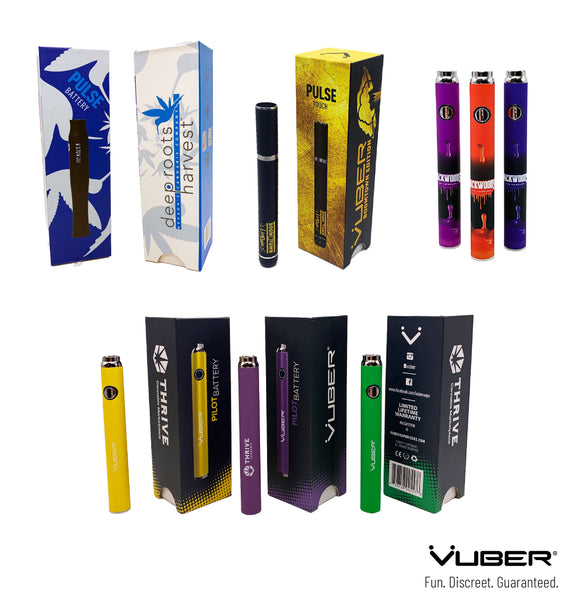 In today's competitive market, businesses need more than just quality products to thrive; they need to create a unique and memorable experience for their...